Skill level:
Day(s) of week:
Time:
Duration:
Location name:
The photographer Rafal Milach and the graphic designer Ania Nalecka will be in April at Fonderia 20.9 in Verona and at D.O.O.R.in Rome for our educational program. They will have a talk and a two days workshop.
Here is the program:
Verona / Rome
Workshop by Ania Nałęcka-Milach and Rafał Milach
"Long story short"
The workshop will focus on:
defining the story
editing / sequencing of images
book design hints
The workshop will be held by a photographer and book designer.
Saturday
10 am – 6pm ( with 1h lunch break)
short presentation of workshop participants ( 5min each) without showing the work
short introduction to the workshop by Ania and and Rafal
lecture about editing and sequencing images (Rafał)
in-depth review of the works of participants ( defining the story + editing and sequencing)
homework: make a dummy ( editing and sequencing check)
Sunday
10am-6pm ( with 1h lunch break)
lecture on book making process (Ania)
short exercise on working on the content
short exercise on analysis of the form
in-depth review of participant's work with the focus on how to transfer the story into a book.
Participants should bring prints sized at least 13x18cm of body of work (preferable one story) they would like to work on. The dummies are also welcome ( but not necessary).
WHO ARE THEY?
Rafal Milach. Photographer from Warsaw. Graduated from the Academy of Fine Arts in Katowice (Poland) and the Institute of Creative Photography in Opava (Czech Republic). Exhibited his work in Europe and Asia. Received grants from the Magnum Foundation and Ministry of Culture of Poland. Winner of World Press Photo and Pictures of the Year International. His work is in the museums of Poland, Japan, and Germany. Creator and member of Sputnik Photos Collective.
…"My work has changed over my career. One of the biggest differences is my relationship between the characters I take pictures of. If you compare 7 Rooms, the people I photographed and the intimate relation with them, The Winners is about something bigger than an individual's story. It's a critique of the mechanisms people are involved in. I was interested in some larger scale phenomenon, in this case state propaganda, that people are involved in though they are not the main components of it."
…I started to work on Landmarks during heightened tensions between Russia and other Eastern European countries. After the annexation of Crimea and war in eastern Ukraine, the Baltic States seemed to be next target. Russia was reported to have been regularly violating the airspace of Baltic countries at the time. I started to think what the borders meant for Lithuania, Latvia and Estonia. I was thinking about the idea of borders and how abstract and fragile they had become in recent years, especially for this region. Despite solid proof of their existence they can be easily removed, changed or simply ignored."
"…I'm currently working on a long-term project dedicated to propaganda in the post-Soviet area. I'm not that much interested in defining where I'm heading. I try to answer spontaneously the needs of the particular project. How can I build this story? How can I build the structure of the project? What can I do visually to communicate the story the best way possible?"
"..The method is also a question of your personal signature, which really annoys me, because people get very attracted to one form of storytelling, especially when it's successful. But it's a trap. It's always linked to the ego of the artist – people get attracted to things that are successful, that work good, that they feel comfortable with. To me, feeling comfortable is the last thing I would like to achieve, because being comfortable makes you lazy. That's why for me everything is constantly changing, and I hope it will continue the same way. I don't think [working in different ways] is a fragmentation of your signature or of your personality. It's fascinating to do new things, and maybe sometimes to go back to the things you have done before. It's just a question of the right tool."
..How did the idea of working in Iceland come about, since all the rest of your work is done on Eastern Europe?
Well, this is quite strange actually. We started to work with our project coordinator Marzena who was in love with Iceland and she found this grant. I was quite sceptical about it because it wasn't my interest at all, I would rather use the money to produce something in Eastern Europe or further East. But as we are a collective who lives from grant to grant, we try to use different opportunities, because we have to survive somehow. However, it was a really good experience, so after a few years we decided to go back again to make films. Aside of the fact that Iceland is absolutely beautiful, for me it was super challenging because I have never worked and don't feel familiar with nature photography or photography which doesn't involve strong human traces. Iceland generally is like a big village. I had to find a way to photograph, because visually it was something totally new for me. I always consider myself more as a urban photographer, but I think I managed to overcome this issue somehow.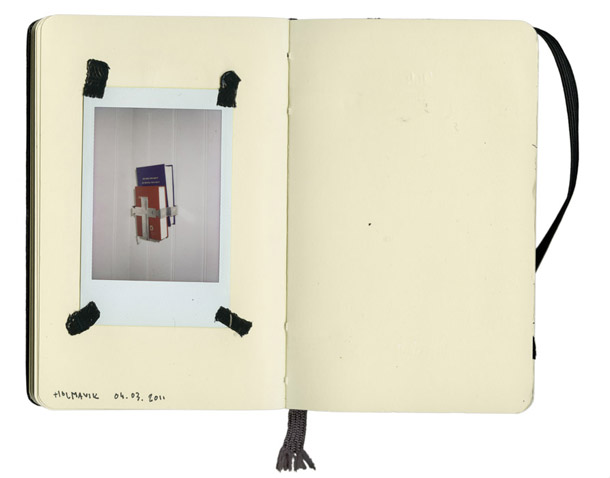 ..So that's why you used such a wide range of approaches to photography in In The Car with R?
Yes, and that's why this story is so autobiographical. I tried not to show Iceland at all, but to show myself.
..And it goes for the writing too. It speaks a lot about photography and the road trip.
Yes. But it's about us, the writer and myself, in the first place, not about the place itself. I don't know if I could work in such a spontaneous way again, but at that time I needed it. It was a very important project in terms of my approach to photography.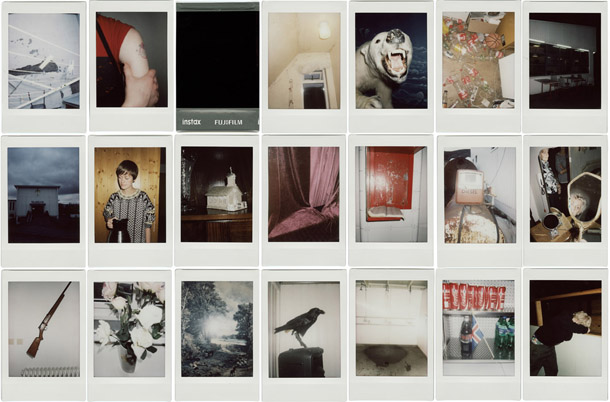 "…The winners are everywhere, says Milach, "but the winnings are not for the winners – they are for the system. There are ideology departments in every region that create these awards to maintain the facade. Sometimes I would turn up to take a portrait of a person who was surprised to find out they were a winner. I had the feeling that, if I had not showed up, they would not have known. It was a little surreal."
.."so I hope that people come to the book with an open mind. It is not just some funny photographs of a strange country. I was looking for the absurdity, because where there is this kind of absurdity, there is also sadness. Really, I hope people will be surprised like I was."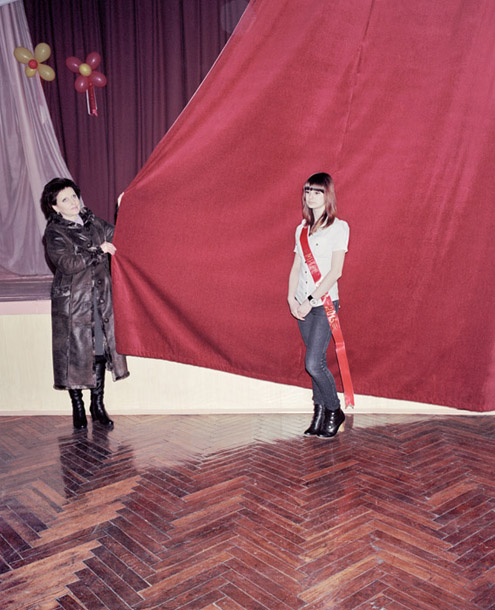 ---
Ania Naletcka is is a graphic designer, art director and book designer at Tapir Book Design, collaborating with Sputnik Photos collective, based in Warsaw, Poland. Among others, she has designed the books 7 Rooms, Black Sea of Concrete, In the Car with R by Rafal Milach , Swell by Mateusz Sarello and IS(not), At the Border, Stand BY and Distant Place by Sputnik Photos.
Books designed by Ania have been awarded the 69th and & 71st POYi The Best Photography Book Award (first prize in 2011 and first prize in 2013), ParisPhoto/Aperture Foundation Photobook Award (2012 and 2013), The New York Photo Festival  (first prize in 2011), Photography Book Now (2009 grand prize and 2011 first prize), Art Books Wanted International Award (2013) and Publication of the Year, Fotofestiwal in Łódź (first prizes in both categories, 2013). She has also co-curated Sputnik Photos' exhibitions Stand By and Distant Place, Photo-eye for Best Books of 2012 (best books by Sputnik Photos) as well as the Curated Bookshelf with Foam Museum in Amsterdam.
…What have you learned about bookmaking and what tips can you give to people who are interested in making photography books?
I try to share my own experience. The first question I would ask myself or a photographer who comes to work with me: why do you want to make a book? You are choosing a specific media and it should be a conscious decision. If you have a body of work, you can also present it as an exhibition or make a slideshow. It might sound aggressive, but that's the first question.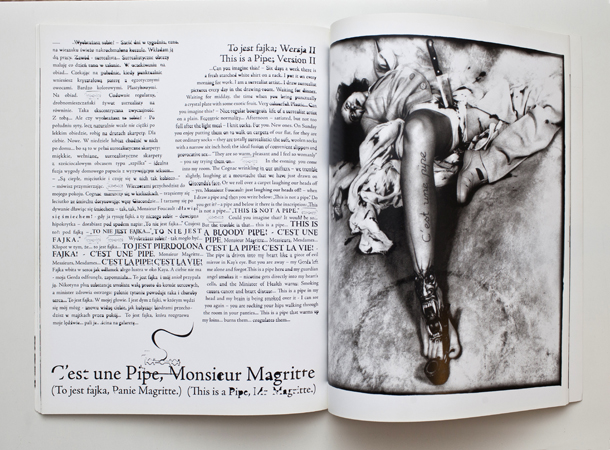 Do you think a lot of photographers make books just for the sake of making them?
Yes, because it is a sort of trend. Ok, I finished the project and now I have to make a book. For me not every project works as a book, but sometimes it can add something. There are some photographers who start their projects already thinking about a book.
The second thing, which I found very liberating for myself and any other creative person, is that there is nothing new under the sun. We don't have to try to reinvent the book. I strongly believe that everything has been done before, even if I don't know about it. Probably in the 20s of the last century. So don't try to be very unique or to surprise everybody by coming out with something very special, new and exciting. You have to realize that you are part of a very long tradition of making books, of the wider scene of this medium. Of course, there have been photography books since photography was invented, but you also have to think about books in general – art books, literature. I really think that the photobook is somewhere between a telephone book and a poetry book. When getting into doing things, sometimes we forget about the basic stuff. The first thing for me as a designer is – the form has to follow the message. The message is the most important. So we don't start from: OK, I saw a book with a nice cover, let's do something like this! You have to start from "why" and then find a proper execution. Another thing I face is that sometimes the photographer has been working for years on the project, and for him it is so obvious that it becomes very difficult to summarize it in a few words, to really explain what you want to say. Of course, there is a saying that a picture is worth a thousand words, but it is crucial to choose these, let's say five words. Because then I have something to start with, and in the process I can always go back and check if we are still on the path we should be on. And it's also useful for the photographer to be really precise about what he wants to say.
"…Never be afraid of changes. You get used to the first idea, but if it doesn't work or if we are too far from what we want to say, or want to say something differently, I can change it, because it's only in the process that I can evaluate my approach. Even if you have booked the printer, there is still time to change things."
"…I really believe that if someone works on a project for five years, there is everything there. I try to be kind of a tool for photographers."
"…For me it is really important to see the author and talk to him, to see how he is as a person, because for me it would be a failure to make a book which is not connected to the author."
"…What else? I always talk about the construction, conception, all these little solutions, but in the end photographs are the most important. [Designing the book] is like making the frame for photography.
"…There really is no place for additional aesthetic stuff that doesn't enrich the the project. I really like layers, and when you are discovering the book slowly, time is needed to find some little details, but it still has to be readable and understandable. I don't really believe in the approach: this is my vision, I don't care if you understand it or not. You need to respect the viewer. And I don't really believe that there is a recipe how to make a book. Each photographer is a different person, each project of the photographer is individual. On one hand it's an adventure. It can be stressful sometimes when you are standing in front of a blank page. You cannot predict how it's going to go and you cannot plan for it to be success."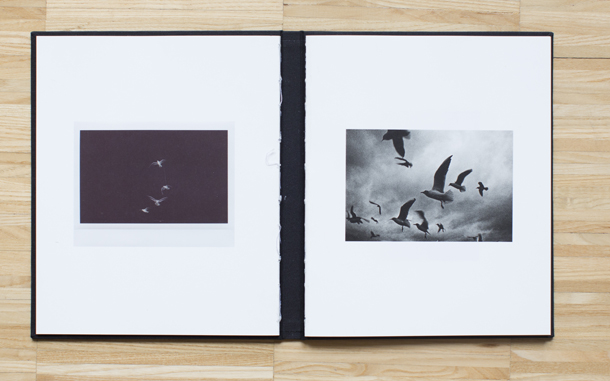 http://www.issp.lv/en/education/summer-school/2014/participants-final-works#workshop-6
Location address:
Via del Commercio, 12, Roma, RM, Italia